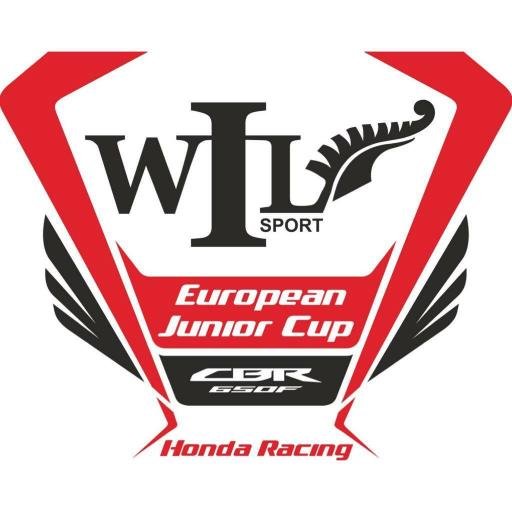 The provisional permanent entry list for the 2016 WIL Sport European Junior Cup, powered by Honda, was published with no fewer than 30 riders coming together from 15 nations across five continents to fight for junior racing's most coveted prize.
The entry list features 24 male riders and six female racers for the 2016 season - all competing equally for the European Junior Cup. Ages ranging from 14 to 21 years for the male riders and 16-24 years for women. Additionally. it is the second running of the FIM Europe Women's European Cup integral class.
This season's European Junior Cup sees the introduction of New Zealand based 'WIL Sport' as full title partner with the continued support of Honda Motor Europe, Motul and Pirelli.
It is the second season of EJC competition featuring identically-prepared Honda CBR650F supersport machines and this year's championship promises another action-packed and close-fought season of racing competition.
Races are streamed live on the World Superbike You Tube channel WorldSBK
Stacey really needs financial support to help towards travel and running costs. The best way YOU can support Stacey is by joining her Supporters Club here
2016 WIL Sport European Junior Cup, powered by Honda
Entry list:
1 – 3 STACEY* NESBITT / CAN / Statoni Racing
2 – 4 ROMAIN LECARPENTIER / FRA / RPA Academy
3 – 8 MIKA PEREZ / ESP / Granshagen Racing Team
4 – 9 CONNOR LONDON / NZL / WIL Sport
5 – 11 RICCARDO PICCIUTO / ITA / SK-RACING Team
6 – 12 BYRON BESTER / RSA / HI-TECH Racing
7 – 14 THEO CLERC / SUI / Clerc Metal
8 – 15 ALFONSO COPPOLA / ITA / Chiodo Moto Racing
9 – 17 GABRIEL NODERER / GER / Noderer Racing
10 – 18 ALEX MURLEY / GBR / Alex Murley Racing
11 – 19 DEAN GOPHER / ISR / Wolf Racing Team
12 – 20 DORREN LOUREIRO / RSA / Family Fitness Racing
13 – 21 AVALON* BIDDLE / NZL / Avalon Biddle Racing
14 – 22 STEFANO FERRANTE / ITA / Brothers Racing
15 – 23 CHARLEY* OAKLAND / GBR / DF Racing
16 – 27 VIKTORIA* KIS / HUN / H-MOTO Team
17 – 34 DANIEL DRAYTON / GBR / Team Bike Insurer/Drayton Racing
18 – 38 HANNES SOOMER / EST / Auto24Ring
19 – 45 DIMITRIS KARAKOSTAS / GRE / Karakostas Honda Saracakis
20 – 48 MICHAEL CARBONERA / ITA / SK-RACING Team
21 – 52 TROY BEZUIDENHOUT / RSA / Into The Blue Diving – Costa del Sol
22 – 54 HARUN CABUK / TUR / KNN54 – TMF
23 – 59 DORIAN LAVILLE / FRA / Team LAVILLE Mi&Do
24 – 64 ASRIN PAK / TUR / KNN54 – TMF
25 – 84 PAOLO GRASSIA / ITA / Chiodo Moto Racing
26 – 91 NICOLE* LYNCH / IRL / MEDLAR Racing
27 – 94 RICHARD BODIS / HUN / H-MOTO Team
28 – 95 GIUSEPPE DE GRUTTOLA / ITA / SK-RACING Team
29 – 97 NIKOS KARAKOSTAS / GRE / Karakostas Honda Saracakis
30 – 99 LAURA* RODRIGUEZ / SUI / Laura #99 Racing Team
* FIM Europe 'Women's European Cup competitor'